I may earn a small commission from purchases made through product links on this website at no extra cost to you. As an Amazon Associate I earn from qualifying purchases.
Last updated: November 20, 2023
Reviews of five of the best personal portable home saunas based on type, durability, ease of setup, accessories, price, and more.
Saunas have become more mainstream in recent years, with many gyms and spas offering sauna and steam room facilities. But going to the gym or spa to use a sauna can be time-consuming and expensive.
An affordable alternative is to purchase a portable home sauna, either an infrared model or a steam variant. A good-quality personal sauna can give you the benefits of a real sauna for a fraction of the cost of installing a built-in home sauna.
Finding the right sauna to meet your needs, budget, and space allowance can be tricky. We have tested and reviewed five of the best portable home saunas to help you select your favorite.
27.6 x 31.5 x 37.8 inches
71 x 25 (30) x 15 (20) inches
Top Pick
27.6 x 31.5 x 37.8 inches
Second Choice
71 x 25 (30) x 15 (20) inches
Top 5 Personal Portable Saunas:
Top 5 Personal Portable Saunas
Let's take a closer look at these five personal portable home saunas, including infrared and steam models.
Prefer a blanket-style sauna? Read our infrared sauna blanket buying guide for more information and reviews of some of the best models available.
1. SereneLife Portable Infrared Home Sauna

For a quality infrared portable sauna capable of reaching high heat and packed with user-friendly features, you will struggle to find anything better than the SereneLife Portable Infrared Home Sauna.
This compact 28″ by 32″ by 38″ sauna is perfect for those in search of a real sauna experience but who don't have the space or money to build one in their home. This portable unit packs a lot of power. It can reach temperatures up to 140 degrees in the time it will take you to gather your reading materials and icy beverage.
The timer function allows you to set your desired time period up to 60 minutes using the attached remote. So you can sit back, relax, and not worry about watching the clock. The zippered hand holes mean you can pass the time reading a book or scrolling through your phone.
SereneLife uses far-infrared for increased muscle penetration and pain relief. Compared to similarly priced items, it is capable of reaching a higher temperature, making it an excellent choice for those looking for a more intense sauna experience.
The kit includes a sauna chair, wired remote, and foot heating pad for maximum comfort. The cover is available in black, gray, or silver, and the entire unit folds down flat for easy storage and portability.
2. 1Love Portable Infrared Sauna Dome

Tent-style home saunas are great for reclaiming space when they're not in use, but they aren't always as comfortable as other options. If you have the space and the budget, the 1Love Portable Infrared Sauna Dome is well worth the expense.
This dome-style infrared sauna allows you to lay flat as you enjoy the power of infrared heat. The unit can get up to a whopping 194 degrees, far higher than any tent unit.
The 1Love Dome is available in three different models:
Premium Zero
Luxor Zero
Luxor Zero XL
The Premium Zero uses zero-EMF carbon fiber IR and tourmaline and germanium stones to create healing negative ions for added benefits. The Luxor Zero and Luxor Zero XL use the same IR system and stones, with added bian and jade stones for better heat retention and increased negative ion production.
Both the Premier and Luxor models are 71″ by 25″ wide and 15″ high. The Luxor XL has added width and height (30″ high by 20″ wide) to accommodate bigger and taller users.
These dome-style portable saunas cost a good deal more than tent units and require more space. They also don't break down for easy storage. But you can't beat the comfort, increased temperature capabilities, and zero EMF emissions that you'll get with the 1Love products.
Read more information about the sauna dome on the 1Love website.
3. Sunakie Portable Steam Home Sauna

If you're in the market for a budget buy that will still deliver, the Sunakie Portable Steam Home Sauna is a great choice.
This steam-style portable sauna unit boasts an impressive maximum temperature of 149 degrees. It takes just 10 minutes to heat up and comes with a wide, comfortable folding chair for maximum comfort. This unit, at 32″ by 32″ by 39″, is also a little larger and deeper than most, and a great buy for those in the bigger and taller category.
The steam generator includes an easy-to-read digital display and wireless remote control. Like all steam units, this piece requires a little more space during use and storage, but the tent itself folds up impressively small.
The Sunakie doesn't leak like other cheap steam-style products, but it can get hot enough to sweat, so keep that in mind when choosing where to place this easily portable unit.
Expect to spend a little more time setting this unit up than other choices on our list, especially that first time. But once you've got it set up and ready to go, you're going to love this product. It's dependable, comfortable, and delivers all the benefits of steam heat in a portable package.
4. Crew & Axel Personal Sauna

Another great choice in the infrared tent-style sauna category is the Crew & Axel Personal Infrared Sauna. This unit is comparable to the SereneLife sauna, with a few added features that make it extra useful.
The Crew & Axel can heat up to 140 degrees in just ten minutes. This is faster than many models, thanks to the ingenious head hole flap that holds heat while the unit is preheating. The attached remote makes tracking the temperature and setting the timer, which goes up to 60 minutes, a breeze.
This 28″ by 33″ by 38″ tent goes up quicker than most models we tried and is a snap to fold down and store. And with an included 3-level foot heating pad and foldable chair, this kit has everything you need to relax and enjoy the benefits of spa relaxation. Also included in your purchase is a 1-year warranty for peace of mind.
5. Durasage Portable Personal Steam Sauna

Looking for a portable sauna with a little character to match the aesthetic of your workout space? The Durasage Portable Personal Steam Sauna has you covered.
This steam-style sauna is available in five flashy colors, including hot pink and baby blue. It is priced lower than many similar products on the market, a nice feature if you're working with a budget. But that does mean you'll sacrifice a little in terms of functionality.
The Durasage has a marketed max temperature of 115 degrees. However, many users report much higher temperatures after extended use. Without an included temperature gauge, it makes sense that the temperature inside the tent could be quite variable depending on how long it's been on.
The unit does come with a timer that goes up to 60 minutes. Unfortunately, there is no remote, so if you want to add time, you have to get out of the tent to do it.
Like most other models featured here, the Durasage utilizes a polyester tent cover. This cover is mostly waterproof but can leak around the seams, so be a bit careful where you place it during use. This home sauna is of somewhat average size at 29 x 34 x 39 inches.
Considering the price and the included folding chair, easy setup, and color selection, this portable sauna isn't a bad choice for those shopping on a budget.
Portable Sauna Buying Guide
With so many different types and models of portable home saunas available, it can be a bit overwhelming to figure out which is right for you.
Here are some things you should consider to find the sauna that will best meet your needs and budget:
Steam vs infrared
Accessories
Size
Storage
1. Steam vs Infrared
Portable home saunas come in two main types:
Infrared saunas use infrared rays to heat the body directly. This is similar to how light from the sun heats objects. These rays penetrate deep into the body and have been shown to offer benefits, including inflammation and pain reduction.
These kinds of saunas do not have to reach as high of temperatures since the heat is acting directly on the body rather than transferring heat to the air and then onto the body. Infrared saunas do not use water, which makes them safe for use on any type of flooring. It also makes the tents easier to put away since they do not require drying after use.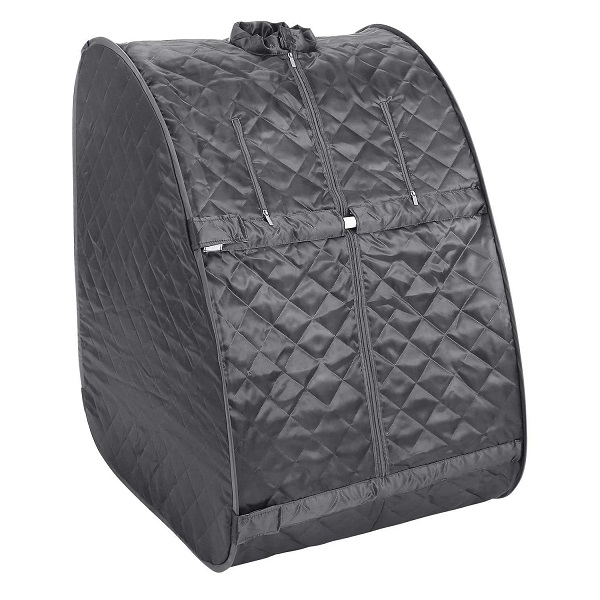 Steam saunas, as you can imagine, use steam as a means of heating the body. Water in the steam generator is boiled, and the steam is piped into the tent. As steam fills the tent, the temperature and humidity levels rise rapidly. The body soaks up this heat, which slowly raises your internal temperature.
The high humidity produced by steam saunas has increased benefits associated with skin rejuvenation. On the downside, these units require a constant source of distilled water. They also must be dried off completely before storage and are a bit bulkier thanks to the steam generator.
2. Accessories
Many portable saunas come with added features meant to increase your comfort and add to their functionality.
A few common accessories you'll find include:
Remote control:
Either wired or wireless to allow you to adjust the temperature or timer without having to leave the tent or dome.
Chair:
Most tent-style units include a folding chair that is properly sized for the sauna. Be sure to check the weight limit on the chair, as many are less than sturdy.
Pockets:
Many tent-style units feature pockets for holding the remote, a phone, books, or magazines.
Zippered openings:
Most units include zippered or velcro openings for you to stick your hands through as you relax inside the tent.
3. Size
The overall size of tent-style portable units can vary somewhat from model to model. Taller users will want to look for units with a greater height to accommodate their shoulders and a greater depth to accommodate their knees. The Sunakie Portable Steam Home Sauna was one of the largest units we found.
Size is also an important consideration if your space is limited. Most tent-style units have a limited footprint and are made to be used in tight spots. On the other hand, dome-style models require a lot of space. These also don't fold up for storage the way tent units do.
But on the positive side, dome units are much more comfortable as they allow you to lie down during use. The 1Love Portable Infrared Sauna Dome was our favorite product in this category.
4. Storage
Tent-style infrared units tend to be the easiest type to store. They typically fold flat for easy portability and can be stored in a closet or under the bed. Steam-style tents are similarly easy to store but require a touch more space due to the bulky steam generator unit.
One thing we did find during our search was that the ease of setup and breakdown between similar tent-style units varied greatly. If you plan to take your sauna down between uses, this is one aspect to spend some time looking at. From our list above, the Crew & Axel Personal Infrared Sauna was the easiest to put together and take down.
Final Thoughts
A portable home sauna is a great way to get the benefits of sauna heat therapy without having to leave the comfort of your home.
When it comes to infrared tent-style products, the SereneLife Portable Infrared Home Sauna topped our list. This personal sauna is easy to use, dependable, and gets hot enough to give you all the benefits of a true sauna for a fraction of the cost of joining a gym or spa.
If you'd like to learn more about saunas, check our guide outlining the different types of saunas that exist.