I may earn a small commission from purchases made through product links on this website at no extra cost to you. As an Amazon Associate I earn from qualifying purchases.
Last updated: November 18, 2023
A selection of twelve practical and useful accessories for the sauna so you can have the most enjoyable sauna experience possible.
A sauna on its own does the trick when it comes to relaxation, but there are various accessories available on the market that can further enhance the overall sauna experience.
For example, a thermometer can help you track the temperature, and a bit of eucalyptus oil will help you relax more while sitting inside the sauna.
Below are 12 of the best sauna accessories you should consider buying if you're the lucky owner of a sauna or steam room at home or a regular visitor of a public sauna. Each of these accessories offers value in its own unique way.
1. Sauna Bucket and Ladle
Pouring water over sauna rocks not only creates a pleasant wave of steam but also helps to heat up the room a bit quicker.
A purpose-built sauna bucket is an essential accessory to have available in your sauna, rather than using a simple bottle of water, for example.
In addition, a quality sauna bucket with a ladle is able to deal with the high temperatures inside the sauna and will last a long time.
2. Sauna Thermometer
A sauna thermometer is important because you need to make sure it doesn't get too hot inside the sauna.
Similarly, you will also want to make sure the temperature in your sauna doesn't stay below the desired temperature for too long.
If you do decide to purchase a thermometer, make sure it is designed specifically for a sauna. It needs to be built with the right materials so that it can withstand high temperatures.
Some thermometers come combined with a hygrometer, which measures the humidity and water vapor inside the sauna.
3. Sauna Hourglass Sand Timer
In addition to a thermometer, a sauna hourglass sand timer is a useful accessory to have as it gives you an idea of how much time you're spending inside the sauna.
Attach this product to one of the walls and rotate the sand timer as soon as you start your sauna session. Other timer products can be placed on a flat surface.
Note that this product is available in different sizes and designs, representing different time periods, from 1 minute to 60 minutes.
4. Sauna Rocks
If you have a sauna at home or are about to buy a new one, it's important to think about what kind of sauna rocks you should use for your particular sauna.
There are different types of sauna rocks and stones, some are better than others, and size is an important factor too. Good sauna rocks should be able to create and maintain heat properly.
Have a look at our extensive guide to sauna rocks to help you find the best ones for your sauna.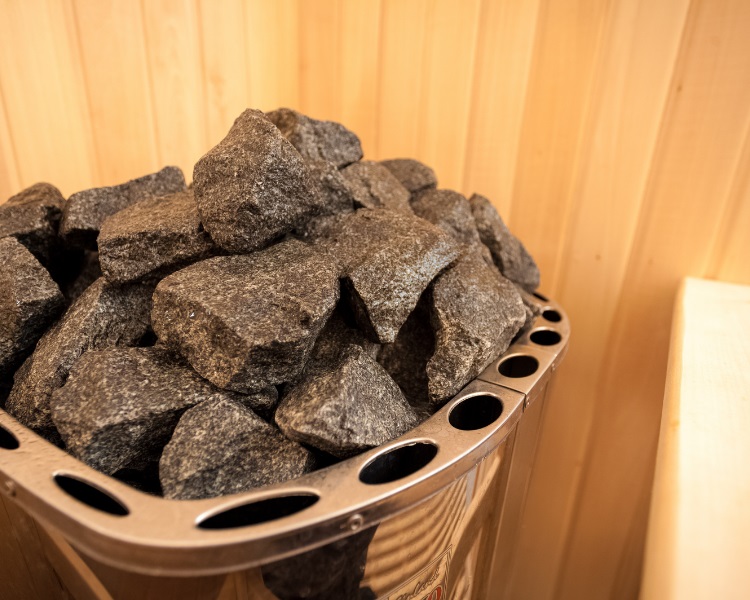 5. Sauna Backrest
Some might say this is a luxury item, but a well-designed sauna backrest does actually improve the sauna experience significantly.
Many sauna visitors, especially those new to the sauna lifestyle, tend to become somewhat restless, or even bored, when sitting in a sauna for a while.
Additionally, the average sauna bench typically isn't super ergonomic, which can also trigger restlessness.
A quality backrest is designed to fit the natural arch in your back, creating a more comfortable and ergonomic seating position.
6. Sauna Neckrest
Where a backrest supports your back when sitting on a sauna bench, a sauna neckrest provides support for the neck when lying down.
This particular product is made of natural bamboo and acts as a sturdy support pillow that can withstand high temperatures and humidity inside a sauna or spa.
The pillow is designed to be placed under the neck, not directly under the head, for optimum support when relaxing in a lying position.
7. Eucalyptus Oil
Certain smells can have a positive impact on our state of mind. The scent of eucalyptus oil is particularly effective when it comes to creating a relaxing effect.
There are various ways to enjoy the smell of eucalyptus oil during a sauna session. One way is by using a dispenser to spray the oil into the air.
Another way is by adding a few drops of oil to the water before pouring that over the rocks. You can also spray the oil directly on the rocks, but that's a slightly less effective approach.
8. Oil Cup Holder
To take the eucalyptus oil experience to the next level, use a purpose-built oil cup holder to spread that much-desired scent evenly throughout your sauna session.
This holder needs to be attached to the wall with the bowl sitting right above the heating element to produce that aroma as the temperature gradually rises.
The bowl is attached to a swing arm, so you have some flexibility in securing the holder to the wall.
9. Body Towel Wrap
A body towel wrap is essentially a big towel that fits nicely around the body, perfect for sauna use, especially in public saunas. It's typically available in men's and women's versions and different sizes.
They are comfortable and easy to wear, not too thick or heavy, and can also be used for other purposes such as gym and pool visits.
Since a sauna towel will absorb a lot of sweat, it's crucial to choose a durable one that will last long without attracting stains and unpleasant smells in the long term.
10. Body Brush
If you're looking to improve your skin during a sauna session, a sauna brush might be an accessory to consider purchasing.
The natural bristles of a sauna brush are perfect for gently scrubbing wet skin. They remove dead bits and also make your skin feel and look more smooth if used correctly and regularly.
A good sauna brush will also promote improved blood circulation and can even help to reduce cellulite.
For obvious reasons, only use such a body brush in saunas at home, not in public saunas.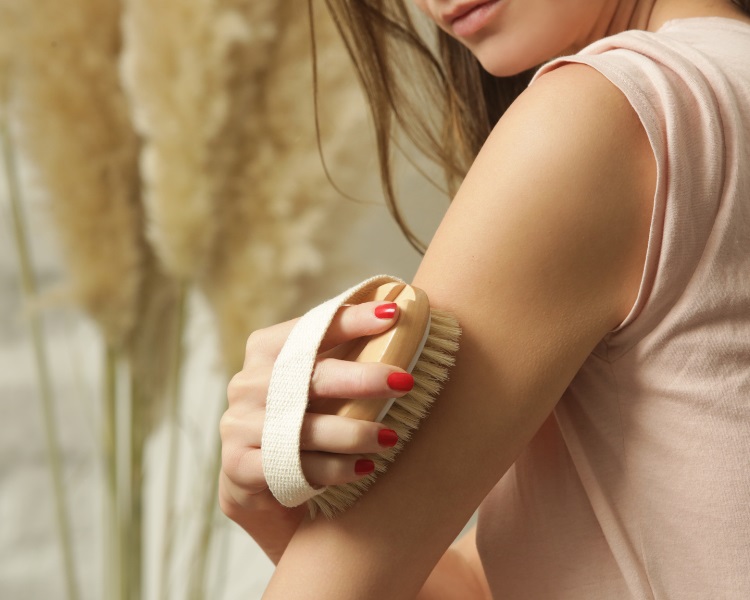 11. Seat Cushion
Similar to how a backrest adds more comfort, a seat cushion serves a similar purpose.
Sauna benches are typically made with hardwood and are not always the most comfortable. A seat cushion does provide that extra comfort that some of us need when sitting on a bench for a longer period of time.
Most sauna seat cushions are made with durable polyester fabric and are filled with moisture-resistant foam. They often also come with washable covers that have a zipper.
12. Sauna Hat
If you're familiar with the Russian sauna process, you may also have seen these interesting-looking hats.
One of the reasons sauna visitors wear these types of hats is to prevent the head from overheating and also to protect hair and ears against heat.
Typically made with 100% natural wool, a Russian-style sauna hat is surprisingly comfortable and easy to wash. They come in different designs and are usually one size fits all.
Check out our detailed guide to the Russain Banya experience to get a better idea of what that's like.