Last updated: March 24, 2023
You have a sauna at home, or you are about to buy a new one. Then it's just as important to think about what kind of sauna rocks you should use for your sauna.
Rocks are one of the most important sauna accessories you need to have, and it's important to pick and choose the ones that offer the best long-term sauna experience.
Here is a simple guide to choosing the best sauna rocks and stones for your new or existing sauna in your home.
Sauna rocks play a crucially important role in your sauna. It's the rocks that take care of absorbing and keeping the heat in the sauna room.
Saunas work by heating up the rocks using a wood fire or an electric heater, and once these are turned off, the rocks keep the room nice and hot.
The advantage is that you can maintain the sauna at a specific temperature and save energy at the same time.
Splashing some water on your rocks will cool them down, but also provide you with a bit of humidity in the form of steam.

GasPro Lava Rocks
【Premium Lava Rocks】 Our lava rocks are sourced from natural volcanic...
【Enhanced Functionality】 These lava rocks don't just hide unsightly pipes...
【Stylish Decorative Element】 Add texture and color to your fireplace with...
What Are the Best Type of Sauna Rocks?
There is a good argument that Igneous rocks, otherwise known as volcanic rocks, make the best type of sauna rocks. Granite rocks, which are from the Igneous family, are a good option as they have better thermal mass.
This means they have a greater ability to absorb and store heat energy, resulting in a better sauna experience for you.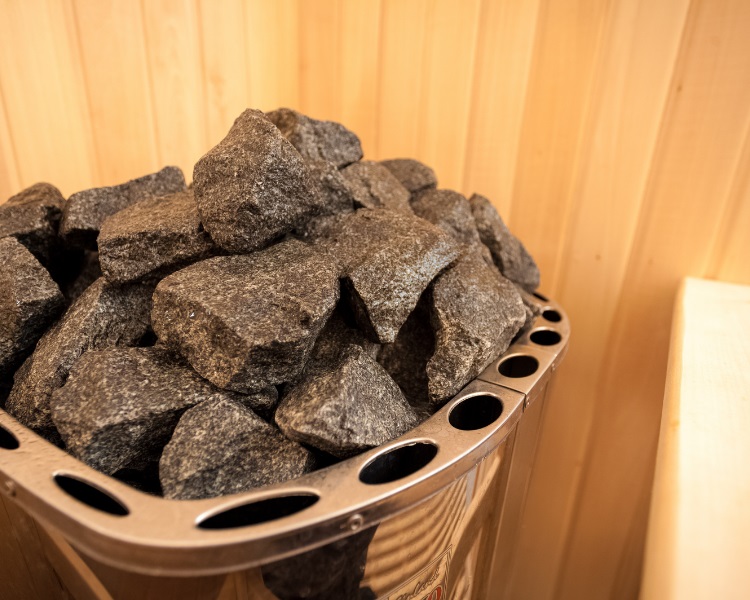 It is important, though, to select non-porous granite rocks (with no cracks or crevices), as porous rocks will absorb water. This may even cause them to burst or explode when exposed to high heat for a long period of time.
Rocks from a lake, which typically have a nice smooth surface, will be less likely to have many cracks and surface imperfections.
What Size Rocks Should I Get?
The rocks you choose shouldn't be too big or too small; about the size of a medium potato should be fine, or somewhat bigger than a golf ball.
Too big, and the rocks take too long to heat up. Too small, and they heat up too quickly.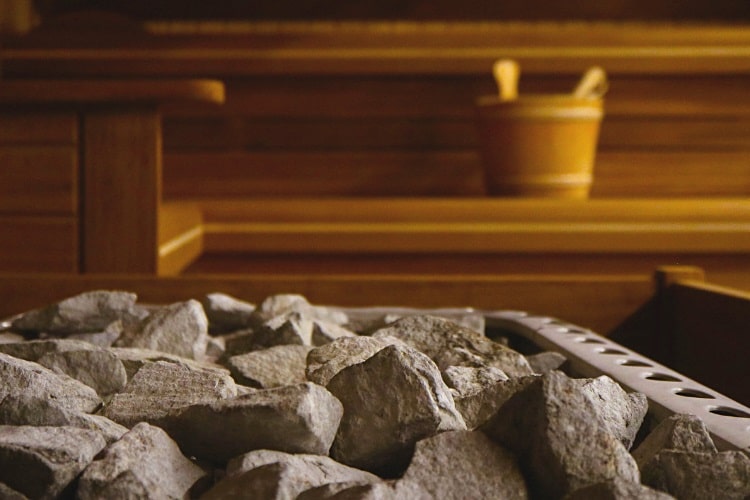 Because small and big sauna rocks typically react differently to getting water splashed on them, it's recommended to have a mixture of small and somewhat larger sauna rocks.
But don't go bigger than the size of a softball.
You don't actually need a large number of rocks either, as you want to sit them loosely on top of your sauna heater to let the hot air circulate freely between them.
How Often Should I Replace Sauna Rocks?
How often you replace your sauna rocks depends on how often you use your sauna. Before deciding to replace your stones, you can re-arrange their position on the pile regularly.
This will help to provide better air circulation and to rotate which rocks are sitting at the bottom of the pile, as these rocks will be sitting closest to the heater and will likely disintegrate faster than the rest.
Replacing sauna rocks:
A good rule of thumb for when you will need to replace your rocks is if you are using your sauna once a week, replace your rocks once a year; twice a week, twice a year; and so on.
How Much Water Can I Splash on Sauna Rocks?
It's very tempting to empty a whole bucket of water onto a sauna stove and enjoy that massive burst of heat that gets created.
It's vital to splash water in smaller portions, for multiple reasons.
Löyly
You know that big wave of steam you get when you throw water on sauna stones? In Finnish, that is called Löyly.
The fact that there is even a name for that sensation means there are some tricks you can learn to get the best Löyly possible.
Splashing cold water on the rocks will give you a better Löyly sensation (as you get a lot more steam), but if you do this too often, or with too much water, you risk cooling the rocks too much or flooding your sauna heater.
Find the Right Balance
It's great to have that heat sensation when throwing water on the sauna heater/stove, but if you use too much water in one go, the sauna stones cool off, and your sauna session becomes counter-productive.
It's essential to find a balance between creating heat while not cooling off the sauna rocks too much. This way, your rocks and stove will suffer less fatigue and will last longer.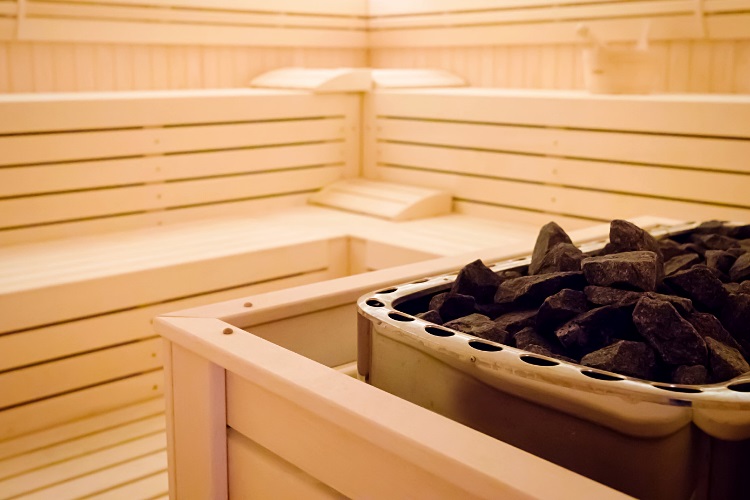 Another option is to use slightly warm water. This doesn't cool your sauna rocks as much, but you do get less steam, and therefore, less Löyly.
It's definitely worth trying, though, as using water on sauna stones (how much and what temperature) is very much a personal preference.
The best method, however, is to stick to cold water, about 3-5 oz at a time, and splash the rocks once every session. A session, in this case, means the uninterrupted period you are in the sauna, which for many people is not much more than 10-15 minutes.
Another thing to keep in mind is that it's recommended to start with smaller amounts of water at the start of a sauna session to allow the sauna rocks and the sauna stove to properly heat up first. This way, you won't shock your sauna stove too much.
Using water on sauna rocks:
If you are spending approximately 10 minutes in the sauna at a time, and you are coming in and out four times (4 x 10 minutes), you would typically splash the rocks four times in total, once every 10 minutes.
Finding the best sauna rocks you can afford and treating them well is pretty important to maintaining a great sauna experience. It's best to go for round stones that you can rotate regularly.
And as long as you don't flood them with water, you will be able to enjoy your sauna and rocks for many years to come.